Obituary for Zack D. Thomas
Zack Thomas, affectionately known by family and friends as "Blim" and also Papa Bear, Deacon and the Gentleman was born on August 18, 1926 to the late Burt and Lizzie Thomas of King George, Virginia. Zack was the youngest of six (6) children; Kerry, Alice, Gracie, Richard and George (deceased). ​

Being raised and working on the family farm, Zack only attended grade school for a short period of time. Though he had limited education, he loved to read; journals, newspapers, etc. He often spoke to children about the importance of "Getting Your Lesson". ​

He spent his early years attending Union Bethel Baptist Church until joining Little Ark Baptist where he persistently attended service until he was stricken with alzheimers/dimensia. Though he didn't serve in a particular ministry, he always assisted the culinary ministry by sweeping, mopping and washing dishes. He truly loved his church and church family. He would often ask on any day of the week, "Church meeting today? We going to service?" He loved music. All genres; Jazz, Rhythm and Blues but none more than Gospel. He could be seen anytime humming a tune and tapping his foot as a gospel choir sang. ​

For years, he worked as a Groundskeeper at Potomac Gardens, an apartment complex in Dahlgren, Virginia where he resided with the love of his wife, Edna Mae Robinson Jordan (deceased). Though their union wasn't blessed with children, he loved, cared for and adored her child, Lucille Tyler and grandchildren as if they were his own. Their love for family and community was apparent through their actions; helping family and friends by cleaning, cooking, ironing, making household repairs. With their kind and loving spirit, they welcomed many people in their home whether at Potomac Gardens, Fence Road or Pine Forest. ​

In 2005, the love of his life, Edna passed away. After her passing, he remained at their last home together, Pine Forest apartments for many years. His time was spent mourning the loss of his lady, helping neighbors as he did at Potomac Gardens and visiting his friends; Richard, Elssie, Shirley, Willie Mae, Alice and Liz.​

In 2012, he moved to King George, VA with his grandchild/god-daughter, Thelma Hargray who cared for him throughout his illness. Due to the progressiveness of his disease, he required extensive around the clock care and was placed at Heritage Hall Nursing Home where he spent his final days. On Friday afternoon, October 19, 2018, he went home to his eternal rest. ​

Blim had a loving an outgoing spirit and never met a stranger. He was truly a gentleman in his dress, his walk and his talk. Welcoming each and every person in his path with that contagious smile and a "How ya' doing?". Of course, if it was a lady, the greeting changed to "How you doing darling?" From the lyrics of a popular 80's song, he was a "Sharp-dressed Man". He always had on a suit, suspenders, hat, tie, dress shirt and adorned with an assortment of jewelry; rings, chains and bracelets. ​

Over the years, he could be seen all over Dahlgren riding his bright red (previously blue) bike with large mirror and horn. He enjoyed baseball specifically the Orioles, fishing and had a natural love for animals; especially horses and dogs. Even with his failing health, he cared for our family dog, Sparky Brown Logan for many years. ​

He leaves behind to celebrate his life numerous nieces and nephews; six (6) grandchildren: Thelma, Charles (Bertina), Morris, Carla (deceased) (Bernard), Pamela, Arthur; Thirteen (13) great-grandchildren: Keith (Erneice), Crystal (Keith), Denise, Tonia (Terril), Michelle (Zori), John, Angela, Marcedis, Marvin, Brian (Shannon), Shaunta (David), Keona (Omar Sr.), Dwayne; Twenty-eight (28) great-great grandchildren: Arlene (Rob Sr.), Shanika, Kayla, Daniel Jr., Ashley, Tarese, Shantece, Andre, Keith Jr., Akil, De'Quan, Alexandra, Pearl, Briana, Zion, Tyler, Bria, Ila, Mia, Jaylen, De'Von, Tsenkara, Brittney, Brian Jr., Omar Jr., Brandon, Ahmad; Eleven (11) great-great-great grandchildren; Ashanti, KeShaun, Ariel, Jakhi, Jada, Robert Jr., Shetia, Andreana, Carter, Casen, Dylan.​

Over the span of his life, he accumulated a wealth of special friends; James Johnson, Jr., Johnnie Williams, John Hargray, Sr., Ronald Wesley, Sr. and James Bland. As well as the following friends who have passed; James Johnson, Sr., John Field, Olga Johnson, Sr., Arthur Tyler, Sr., Mack Johnson, Peter and Margaret Tyler.
To send flowers or a remembrance gift to the family of Zack D. Thomas, please visit our Tribute Store.
Previous Events
Service
Little Ark Baptist Church
15681 Owens Dr.
Owens, VA 22448
Remains can be viewed one hour prior to the service.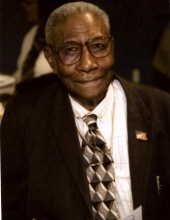 Thank you for sharing your
memory of Zack
Provide comfort by sending fresh
flowers from our local florist.
No thanks, please don't show me this again.